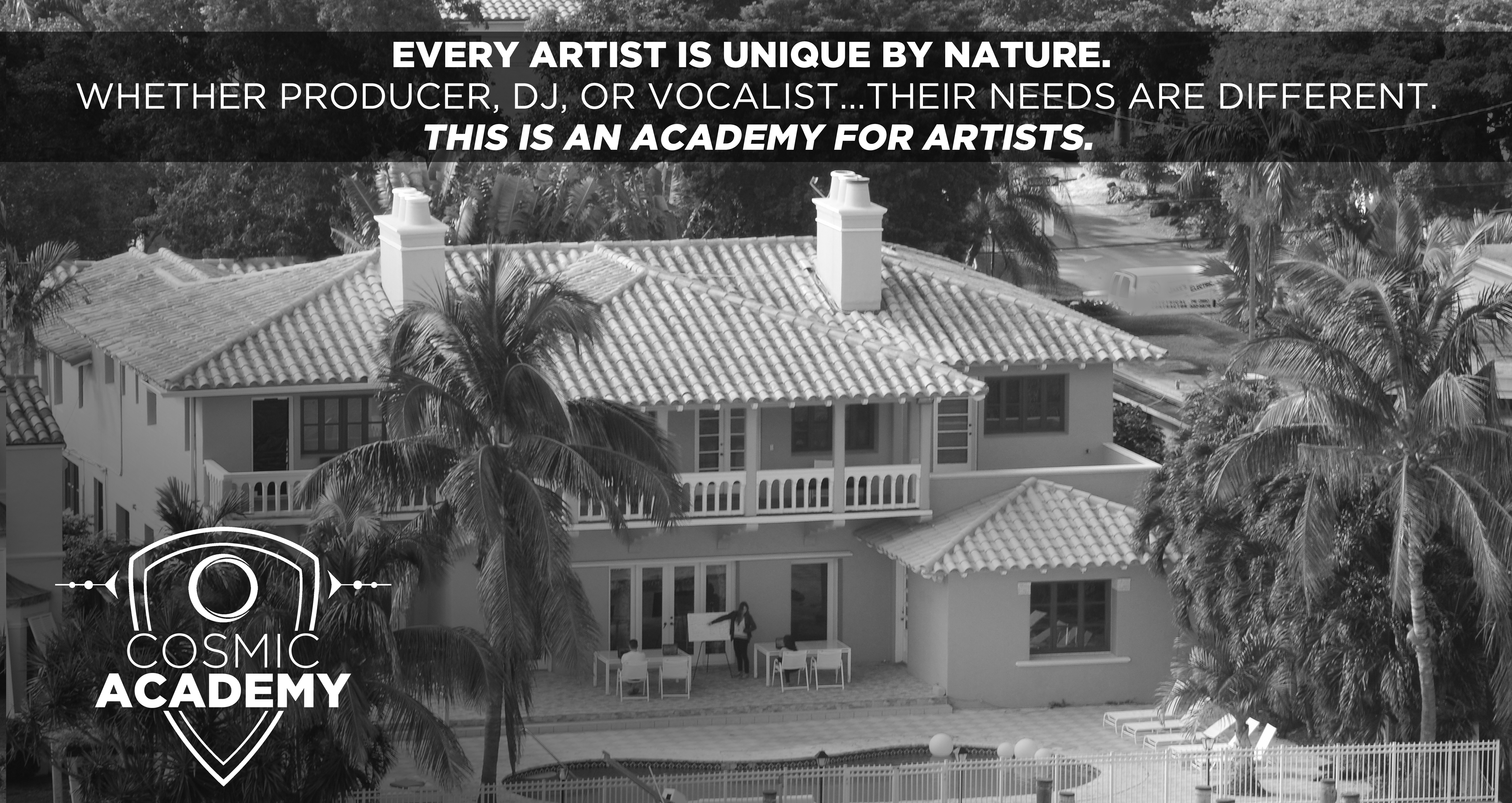 For the past six months the team behind 
Cosmic Opera
 and 
Cosmic Management
have been building a state of the art and alternative music academy in a 7,800-square-foot Mediterranean Villa in 
Miami Beach
.
Cosmic Academy
has already been teaching their first round of students in a sold out class that started 
December 1, 2012

.  
"There are many music programs in the country, some that teach DJing, some that teach Music Production, and we wanted to create a school that builds artists," says founder Justin Cohen. 
 Cosmic Academy has been developed by professors from the renowned Tisch School at New York University – Clive Davis Institute of Recorded Music.
Bo Pericic, who will be teaching the music side of the curriculum, is a professor at the Clive Davis School of Recorded Music and is also one-half of the veteran DJ duo Filo & Peri. As a producer/DJ, Bo has sold over a million records, toured the world for 10 years playing festivals ranging from Electric Daisy Carnival toTomorrowland, and has had hits reaching Number 1 on Billboard Dance, Number 1 on Beatport andTop-40 in the UK National Chart. His releases have been signed by the industry's top labels; including Armada, EMI, Ultra, Subliminal, Vandit, Positiva, and many more.
"After 10 years as an artist in the music industry, and after teaching hundreds of students at NYU, I feel that it is important that music education is kept current and taught by those living it," says Bo.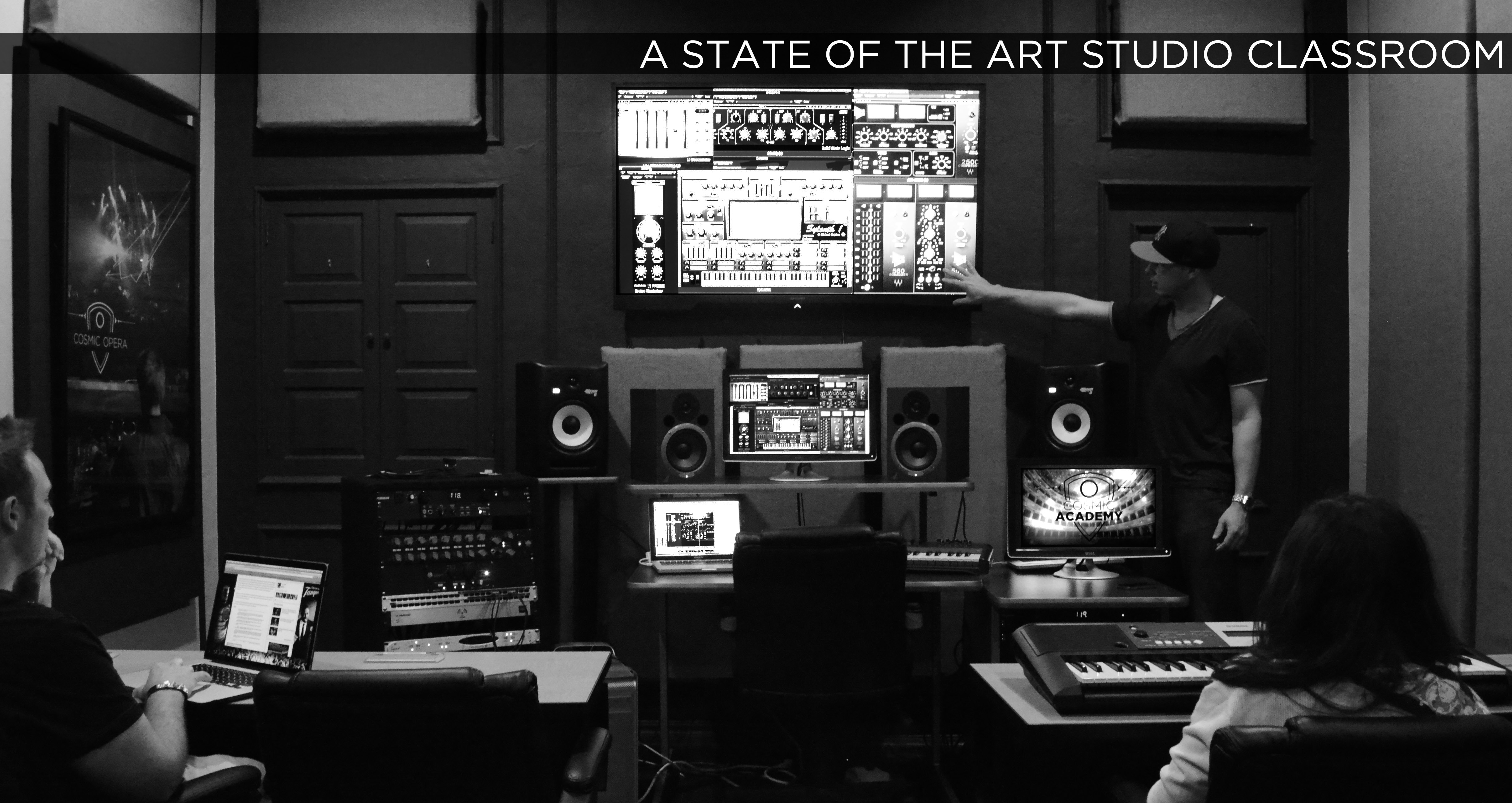 Bo will continue to make music and tour, but teach the lessons learned and will continue to learn from real life examples to the students of Cosmic Academy. Student Chris Collins reflects over his experience at the Cosmic Academy as a member of the Class of January 2013:
"I was not new to production, I had been doing it for about 4 years. I even had a couple releases under my belt. I thought I knew what I was doing. I learned more in one week at the academy than I did in 4 years learning from books and month long courses. The things that I learned are things that aren't in books. Bo showed me how to think like an artist and completely transformed my workflow. I can now create fully-produced tracks in days when it used to take me months. The academy completely transformed the way I make music. I now work smarter, and even harder.

But this is really only half of the academy experience. The other half is learning lessons and skills that are essential to the music business. As much as it may look like the music industry is a big party, it's not. Yes it is an enjoyable one to be in, but it is an extremely dangerous place. Most people have to learn vital lessons the hard way. I have learned a few that way and it's not enjoyable. However, with the insight and skills which the Academy has instilled in me, my defenses are strong. I have learned countless invaluable things which have shaped me into an artist, not just a DJ and performer. Cosmic Academy was truly a life-changing experience for me. If you don't think you can learn anything more – you can, trust me."  -Chris Collins
Justin Cohen will teach the marketing, branding, legal and business side of the industry. He says,
"There are more DJ's and producers coming up than ever before because of the increased popularity of the genre and because of this, the competition to get the big gigs and to get records noticed becomes increasingly more difficult.  This is why we believe that having knowledge of even something like social media can help give an extra advantage to an aspiring artist, and this is why at Cosmic Academy we teach a whole spectrum of methodologies."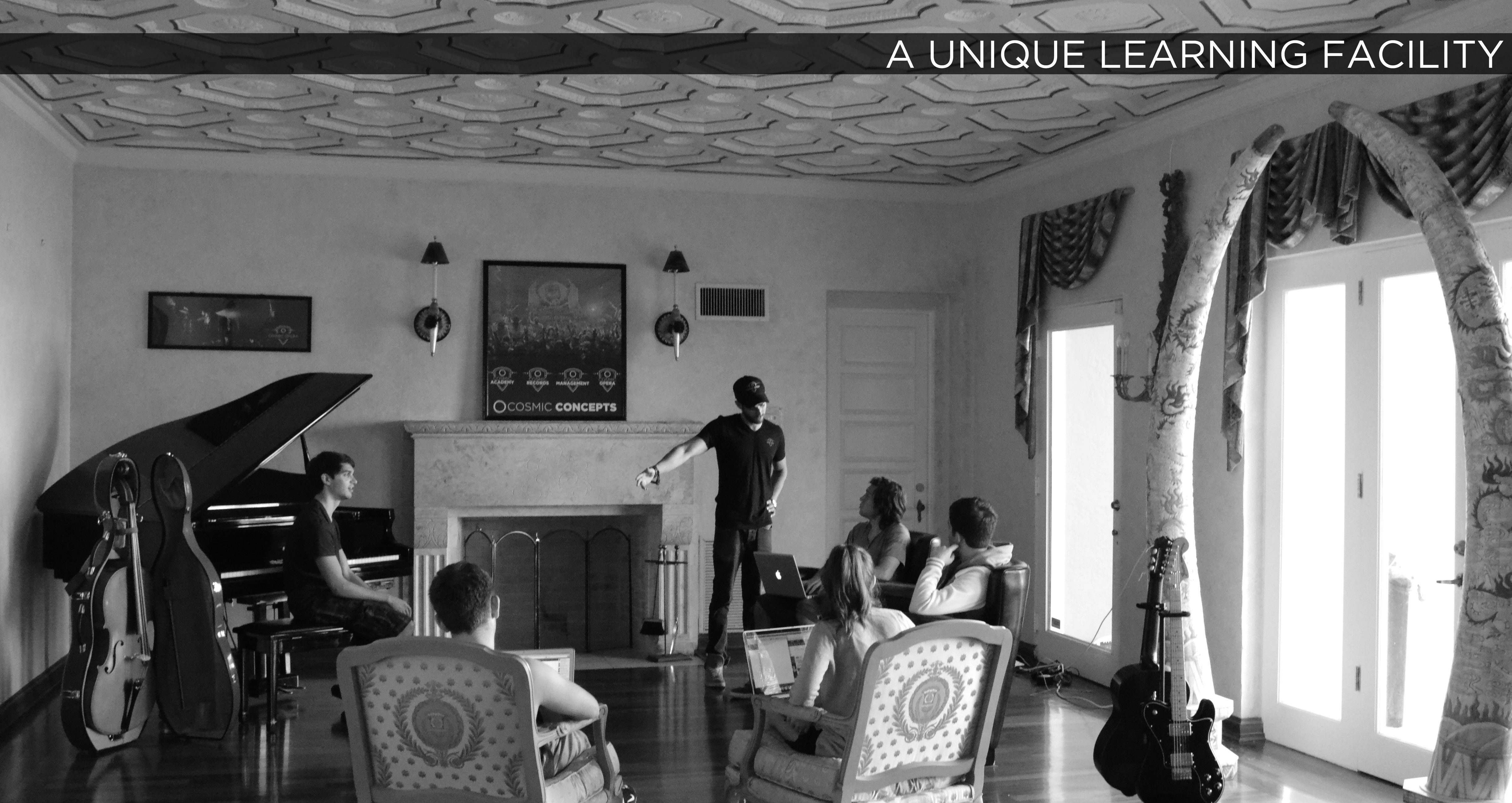 Cosmic Academy is also very innovative in the music education space because it caters to the specific needs of each student.
"I've been fortunate to tour and record with countless artists and I know Justin, from his years in concerts and events, has also worked with over 1000 artists, and we both agree that every artist is different and every student aspiring to be an artist is unique and so are their educational needs.  In our first Cosmic Academy class, there are students who need more help on production, and some students need more help in finding their sound, some students have come in already great producers, but need help from Justin in their marketing and branding. Because of this, it is difficult to answer when we are asked what is the curriculum. The true answer to that question is the curriculum is different and crafted specifically for each individual student." – Bo
The academy is not for everyone. Cosmic Academy wants students who are eager to do everything they can to get to the next level. Justin comments,
"We have Cosmic Management, Cosmic Opera our events company, we have a record label and now with Cosmic Academy, we hope to find and develop the top new talent that could be signed to our management company, our record label and one day play on the Cosmic Opera stage."
 Cosmic Academy will now be taking public applicants for their two and four week artist camps held at their Miami location, as well as online applicants taught using the newest technologies in virtual education.
"I have been studying music for my entire life, but my time at Cosmic Academy was the most inspirational, practical learning experience I've ever had. Not only did I have the opportunity to work hands-on with high-quality equipment on a regular basis, but also, so much individual attention was invested in me as a student and artist. Because of this, I was able to develop as a well-rounded entrepreneur with Justin, and as a skilled producer and performer with Bo. I left the program with a strong brand, a song I am immensely proud of, and a sense of professionalism and confidence that I would not have were it not for their guidance and support. The big dreams that I've always had for myself now are now developing into a realistic future thanks to Cosmic Academy." -Lea Serres
"Cosmic is pioneering a learning experience that has never been done in the new age of the music industry. I would be half the artist I am now if I had not been able to experience Cosmic Academy." -Max Van de Put aka ReMax (Class of January 2013)
For more information or to apply to Cosmic Academy: